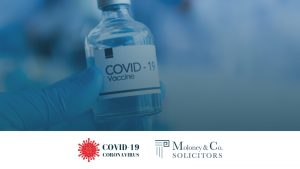 Two Covid-19 vaccines, Pfizer/ BioNTech and Oxford University/AstraZeneca vaccines are currently being used in the UK. Ireland is using these and also the Moderna Vaccine.
Speaking about the wide range of serious adverse reactions to the experimental Covid-19 Vaccines Liam Moloney Solicitor said today "it is likely in Ireland that there is significant under-reporting of adverse reactions as many people are unaware that they can report them to the Irish Health watchdog, the HPRA. The HPRA should immediately publish a list of all adverse reports linked to the vaccines being administered here so the public is fully aware of the risks associated with them"
He continued "the UK figures show that the Pfizer/ BioNTech vaccine has led to frequent adverse reactions such as pain in the injection site, fatigue, headache, muscle pains, chills, joint pains and fever which were reported in more than one in ten people. The Oxford University/AstraZeneca vaccine resulted in adverse reactions including injection-site tenderness, injection-site pain, headaches, fatigue, myalgia, malaise, fever and chills which were again reported in more than one in ten people. Adverse reactions reported after the second dose were milder and reported less frequently than after the first dose."
Mr Moloney added "the figures from the UK are very concerning and show that a number of serious side effects have been associated with two of the same vaccines being administered here. Other adverse reactions to the vaccines currently being reported are as follows:
Myocardial infraction "heart attacks".
Tachycardia which is a medical term for a heart rate of over 100 beats per minute and increases the risk of stroke/heart failure, cardiac arrest, and death.
Cerebral haemorrhage
Bells-palsy which is a condition that causes temporary weakness or paralysis of the muscles in one side of the face.
Seizures or sudden uncontrollable electrical disturbances in the brain
Thrombocytopenia/ lack of platelets in the blood.