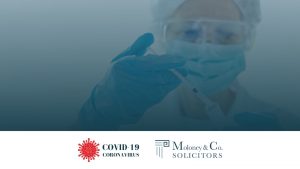 The Covid-19 vaccine is thankfully to be rolled out nationally to much of the population in the coming weeks and months. We hope that the entire population will eventually be offered one of the vaccines now available.
The vaccine rollout has prompted some queries to us, the majority of which have come from people who have had medical issues with the administration of previous vaccines not related to covid-19.
As there is no Statutory no-fault compensation scheme for serious Vaccine adverse side effects In Ireland anyone who suffers injury is left with no option but to seek legal advice to find out if they can claim compensation against the Manufacturers of the vaccine.
As is standard with medical procedures, vaccine rollouts included, there may be issues around areas of liability and causation which centre around proof of product defect and potential medical negligence. With that in mind, it is important to note that minor shoulder injuries and other related complications which are warned side effects of the covid-19 vaccines are not compensatable injuries. No person who sustains such injuries after the administration of a vaccine is entitled to claim damages for the same. However, more serious injuries that could be caused might lead to litigation. However, with such litigation, the burden of proof that such injuries were caused as a result of negligence and breach of duty lies with the person who has received the injury.
Any person who receives a significant injury would have to have strong expert evidence that the injury was caused as a result of the negligence, breach of duty and product defect caused by the vaccine. Any such claims are likely to be fully defended by the state and carry a risk in relation to costs.
*In contentious business a Solicitor may not charge fees based on a percentage of any award or settlement.