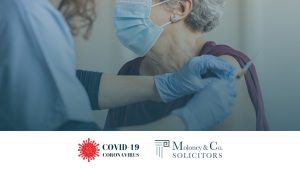 While vaccination is one of the best ways to protect against potentially harmful diseases it is not always possible to predict what reactions people have to them.
In some cases, injury can occur from poor vaccination technique rather than the vaccine or its components alone. An adverse event following vaccination could be related to the technique of an intramuscular percutaneous injection. This is a procedure where access to a muscle is obtained by using a needle to puncture the skin into an arm resulting in trauma from the needle and or the unintentional injection of a vaccine into tissues and the structures lying underneath.
Shoulder related injuries caused by vaccine administrations are called SIRVA and along with Vasovagal syncope are injuries associated with the administration of vaccines. Vasovagal syncope is the loss of consciousness (fainting) caused by a transient decrease in blood flow to the brain. Medical research has confirmed that Syncope did not result from any particular antigen, but from the act of the injection. Steps can be taken to significantly reduce the likelihood of injury from vasovagal syncope such as having a patient sit or lie down for the vaccination and observing the patient for 15-20 minutes after administering the vaccine itself.
There is nearly uniform agreement in the scientific community that SIRVA is caused by improper vaccine administration rather than from the vaccine itself. Scientific research has also concluded that sub-acromial bursitis and other shoulder lesions are 'more likely to be the consequence of a poor injection technique (angle, needle, size and failure to take into account a patient's characteristics) rather than the components contained in the vaccines that would trigger an immune or inflammatory response.'
PROOF REQUIRED TO WIN A CASE FOR VACCINE INJURY
In Ireland under civil liability standards someone who alleges that they have received a vaccine-related injury or that a vaccine caused or significantly aggravated a previous injury must prove, on the balance of probabilities, that the vaccine or the method of its administration caused the injury itself. All recent vaccine programmes have resulted in the Government providing indemnities to the manufacturers of the vaccines. This means that any claim that might be successful would ultimately be funded by the State. The State has previously had to settle vaccine injury claims following the administration of the swine flu vaccine Pandemrix.
For further information contact Liam Moloney Solicitor
087 2726759
www.moloneysolicitors.ie