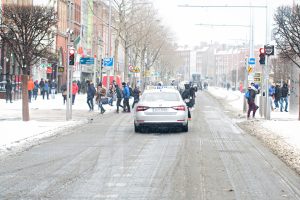 The recent spell of bad weather may lead to Court Claims for compensation from people injured by slipping and falling on icy footpaths, untreated roads and car parks.
Businesses and homeowners need to be aware of their legal duty to take all reasonable steps to ensure the safety of their customers and visitors on to their premises.
The Occupiers Liability Act 1995 imposes a duty of care on occupiers to take reasonable care in all the circumstances to ensure that visitors to premises do not suffer injury or damage by reason of any dangers existing on their premises.
The warning comes after the High Court previously awarded damages of over £1 million to an employee who slipped on icy steps and suffered serious injuries and then sued her employer.
The failure by occupiers to safely clear pathways and car parks, treat them with salt and grit or to place mats near entrances to their premises could make them liable to pay compensation to people injured.
The Workplace Regulations 2007 require that outdoor and indoor places of work are organised so that pedestrians and vehicles can circulate in a safe manner. This  is an approved code of practice which has legal status which states "arrangements should be made to minimise risks from snow and ice, this may involve gritting, snow clearing and closure of some routes, particularly external stairs, ladders and walkways on roofs".