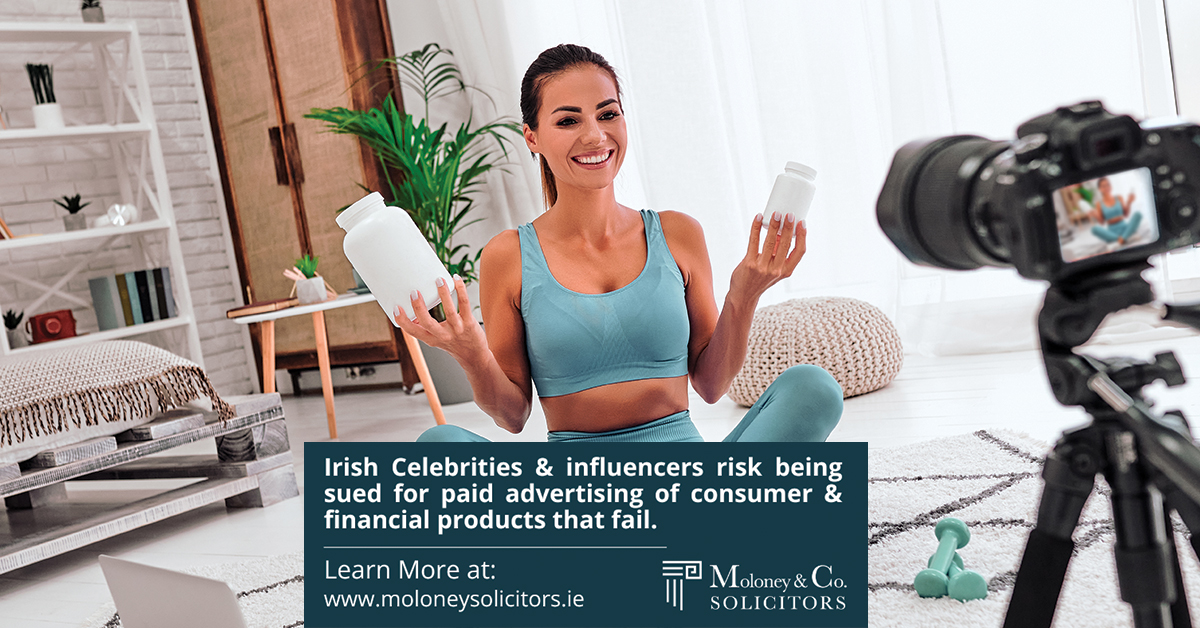 Celebrity influencers in Ireland have become much more important for companies and brands when it comes to reaching relevant customers to market their products in recent years. The growing trend of Irish Celebrities, influencers and well-known sports people endorsing and promoting consumer products has raised the question of their potential civil liability when things go wrong with their endorsed products.
In the United States well known football star Tom Brady is fighting a multimillion-dollar lawsuit for endorsing the failed crypto currency exchange FTX. The lawsuit argues that he leant his credibility, trust and status to the failed crypto currency exchange thereby persuading investors of its merits.
The concept of celebrity endorsements is to provide value to companies and plays an important role in raising awareness and influencing customer decisions to buy certain products, that in some cases they might not have ordinarily purchased.
Speaking about the risk of such lawsuits here Liam Moloney Solicitor said today "to protect the interests of consumers celebrities should guarantee that the statements they make in their endorsements about the products and services being advertised are not misleading or untrue. Any celebrity that is endorsing a specific product for the purpose of sale should always undertake prior adequate research on the truth of the brands claim concerning that product or service to protect the interests of the public".
Mr Moloney continued "the Consumer Protection Act 2007 states that it is a criminal offence to make false or misleading claims about goods, services, and prices.  The legal question is whether an influencer could be held legally accountable, along with the owner and supplier, for their promotion of a product endorsed by them that fails or causes financial loss.  If they simply follow blindly a script produced by the products owner and marketing agents as paid promotional advertising without such due diligence they could be liable".
He added "celebrities should be required to disclose to the public when and how much they are paid for promoting financial and other consumer products".
*In contentious business a Solicitor may not charge a fee based on the percentage of damages awarded or a settlement achieved.