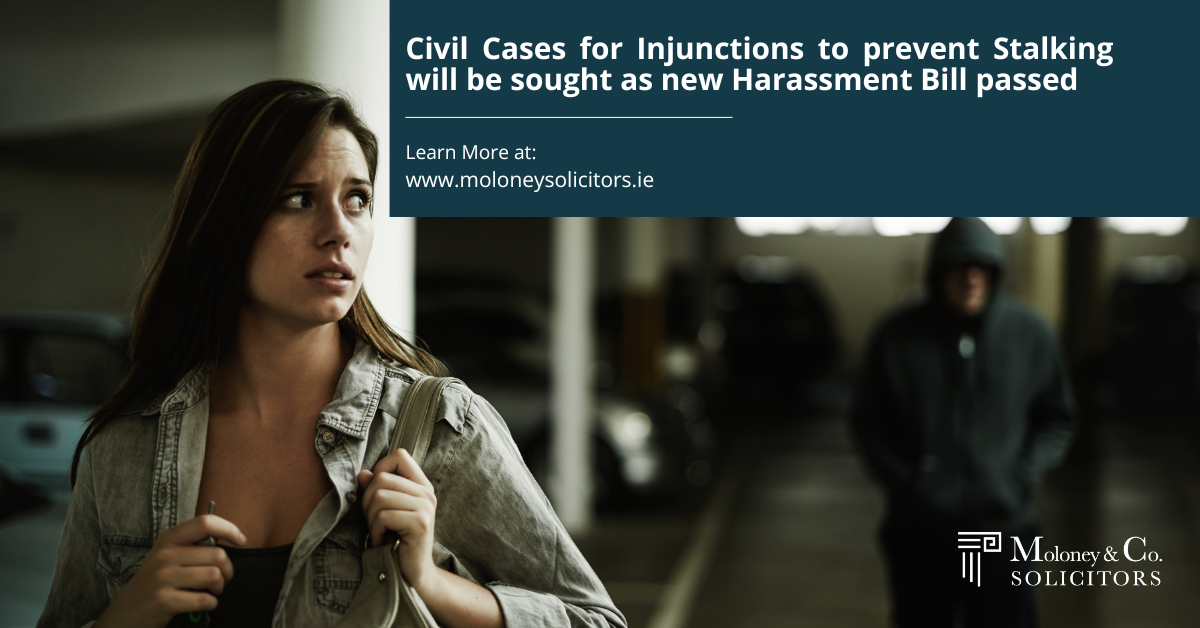 A new Act to provide for the specific offence of stalking will soon be passed by the Oireachtas. Stalking is defined as repeated and unwanted behaviour that occurs because of a fixation or obsession which causes alarm, distress, or harm to a victim.
The new legislation called the Non-Fatal Offences against the Person Act (Stalking) 2021 amends the previous Act passed in 1997.
In the Bill stalking behaviour means engaging in one or more of the following behaviours.
         a) Persistently following, watching, pestering, or communicating by any means of communication with or about a person.
         b) Attempting to make repeated, unwanted contact with a person or any other repeated unwanted behaviour towards a person.
         c) Loitering in the vicinity of a person in a manner that causes the person to experience fear apprehension fright a significant distress for themselves or others.
         d) Monitoring or spying on a person by any means.
The Act further provides that when a person is found guilty of an offence the Court can order that that person shall not, for such period as the Court may specify, communicate by any means with the other person and that person shall not approach within such distance as the Court shall specify of the place of residence or employment of that other person.
Speaking about the new Bill and how new Civil law applications can be brought Liam Moloney Personal Injury Solicitor said today ''Stalking is an extremely intrusive crime and invades the rights and dignities of others. It can cause significant psychological harm. The Courts will also be able to issue civil restraining orders against stalkers and these orders do not require a criminal prosecution and will be easier for victims to secure.''
Mr Moloney added "the Act also provides on summary conviction to a Class A fine which is a fine not exceeding €5,000.00 or to imprisonment for a term not exceeding 12 months or to both".