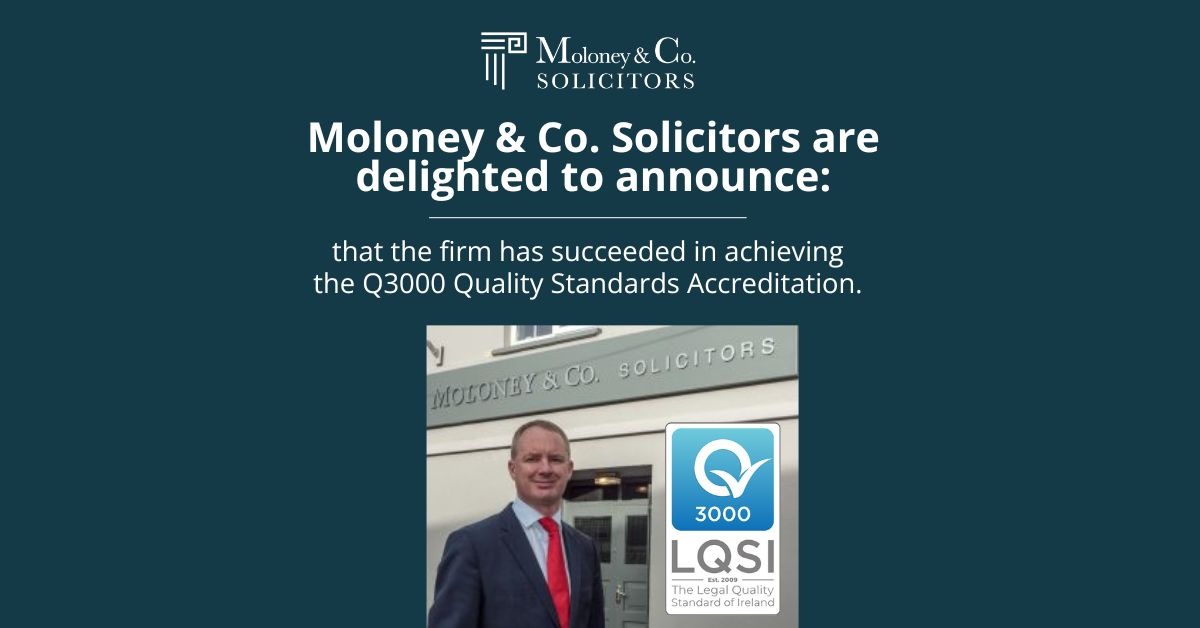 Specialist Litigation firm Moloney Solicitors with offices in Dublin and Naas have succeeded in achieving the Q3000 Quality Standards accreditation, which is awarded by the Legal Quality Standard of Ireland (LQSI).
Commenting on the firm's achievement Liam Moloney, Managing Partner said today "the LQSI Q3000 Standard is a management standard for leading Irish law firms which assesses law firms approach to risk, quality and practice management. It provides assurance to clients that their Solicitors comply with best practice standards".
Mr Moloney added "firms with the Q3000 accreditation have been independently audited and rank among the highest quality law firms in Ireland. These independent audits, carried out annually by the LQSI, check and verify that the correct policies and procedures are in place at our firm, enabling Moloney Solicitors to achieve and maintain the best operating standards in the industry. We always strive to deliver the highest quality of service to our clients and that their best interests are always being served."
Moloney Solicitors are legal experts in personal injury cases including medical negligence, road traffic accidents, accidents abroad and also practice in  family law, property and conveyancing.
Contact Moloney Solicitors:
045-898000       info@moloneysolicitors.ie                   www.moloneysolicitors.ie